Celestial Nuggets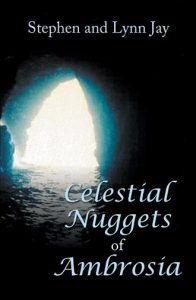 Celestial nuggets are substance for the Soul, spiritual food that nourish our ascent, sustain our life, and continue opening our consciousness to the reality and grandeur of a life lived by Soul perception. Soul manna absorbed in consciousness provides an open vessel for spiritual activity to manifest through.
The first rays of the light of truth, the substance behind the Word of God that enters consciousness is what we hold fast to. We implement these as the eternal principles we live by until they are concrete, forming a firm foundation to walk out upon.
Our spiritual journey of more than five decades unfolds in the following six books, along with shared experiences of our deep mystical and personal relationship with Herb, our loving friend and teacher. Three of these volumes are our works on the condensed wisdom of Herb Fitch, The Silver Highway to Redemption, The Golden Circle of the Soul and Letters to Faithful Witnesses and three of these are ours The Mystical Ladder to Elysian Fields, Celestial Nuggets of Ambrosia and A Glimpse into your Spiritual Identity.
Feast your Soul on the eternal wisdom contained in each celestial nugget that comes to you. They are fruit for you to slowly absorb as Soul succor, spiritual nourishment propelling your Soul odyssey.
The Soul is the vehicle through which Spirit expresses, and no spiritual journey can be taken without it. We dedicate our energy and focus to grow in awareness of life as a Living Soul. Once this is embodied and acted upon, the Soul breaks through the human crust of consciousness, and, as Herb says, "The pilot light is on automatic."
Stephen and Lynn Jay