Herb Fitch was a mystic revelator wholeheartedly committed to unveiling and bringing forth deep hidden mysteries of mystical living. He reveals the way to divine rebirth through inner direct revelation. His message of transition echoes through his legacy, the mighty works left to share with those who come to drink of Living Waters.
For more than thirty years Heb tirelessly, and from numerous directions expounded on the truth, the eternal wisdom, revealing its presence in consciousness. He teaches how to ascend out of the mortal mist into heavenly realms. On fire with the vapors of revelation, he leaves no spiritual stone unturned. His words are alive, fresh with enlightenment and inspiration.
Through his revelation you feel a loving force at work, active and alive, penetrating consciousness, and empowering with an awakened remembrance of the liberating secrets long forgotten.
* * *
"From the first time I met Joel, I didn't think of anything else. Joel had a unique way of presenting truth. Joel was the truth; unpretentious, and not caring what anyone thought." – Kauai 1989
At the end of 1963 Herb Fitch came upon something in a book of Joel Goldsmith inspiring him to call Joel, which ushered in radical changes, altering the direction and framework of his life. At the time he made that call, he did not know the immense ramifications of the momentous decision that was destined for him.
An except from a story told to us by Herb as recorded in our journal on Kauai 1992.
Herb asked Joel if he could come and see him, and Joel told him to come. On their fourth day together, a strange thing happened. Joel asked Herb to enter into the Infinite Way work. Herb said to Joel, "People come to you for healing. I can't heal." Joel told me, "Go and do it."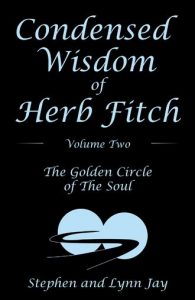 The two mystics are kindred Spirits: similar in stature, approach, genuineness, and Soul appeal, sharing a directness and tireless fervor when pouring forth the message. Both of their works ring of the confidence and boldness of Spirit.
There was a certain affinity between them, as both were born and raised in New York City and sprang from the Hebrew faith. When Joel met Herb, he addressed him as a Landsman, meaning fellow countrymen, a greeting of affectionate recognition and endearment.
At the time of this meeting Herb had no formal background in the things of Spirit. What transpired for him when Joel recognized and called him into the work was self-revelatory, an earth-shattering, explosive way to illumination by the grace of God.
In early 1964 Joel visited with Herb in San Francisco and gave two talks while there. Joel made his transition shortly thereafter, and Herb's work had just begun. Joel, a visionary, recognized the spiritual capacity and Soul potential within Herb and empowered him with the desire to answer the call to service.
Joel sensed something in Herb that was fearless in commitment, someone who was not afraid to go within virgin consciousness, to break new ground and bring forth original, bold ways of interpreting and expressing Spirit.
Joel expressed the following to Walter Starke, an author and teacher of The Infinite Way, who wrote in his 1993 Newsletter about a vision Joel shared with him three weeks before he made his transition. Joel said, "Ten years after I die what will be called The Infinite Way may not be, because if the message is frozen off where I left it and it is not expanded and put in new words, it won't be the growing, evolving, Infinite Way."
Joel's feeling for the expansion of the message of The Infinite Way was, in fact, left in the capable hands of Herb Fitch to carry forth this work with the excellence, diligence, and respect befitting this wonderful mission, fulfillment of his destiny.
Joel and Herb had a short but powerfully charged time that spiritually translates to eternity.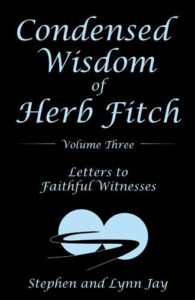 "From the first time I met Joel, I didn't think of anything else …"
In the entire span of our loving friendship and time together, our travels, meditations, classes, and shared experiences, Herb consistently spoke truth, about his revelations, and of Joel. When he was moved to, he also shared about the love of his life, his other half, Betty. Besides talking about Betty, he shared little with us of life before Joel. He walked, talked, and lived in an undivided consciousness, a testimony to his being called a single-pointed genius.
Herb loved his island home of Kauai. It was compatible to his Soul and Spirit. In September 1992, Hurricane Iniki devastated his house. Although the top level of it was blown off, all Infinite Way material was preserved and shipped to California. He wrote that he moved to Santa Cruz with one suitcase, all that he had left. Two months later he settled in a home in Soquel, California.
Shortly after his September 1993, Chicago seminar, he fell ill. He cancelled his 1994 Easter seminar and withdrew into solitude. His health deteriorated and he passed into an ethereal journey to paradise.
If Herb has his way paradise is a quickened version of his island home, the Garden Isle of Kauai. Although he left Kauai in 1992, he felt a piece of his heart remained there.